Jaguar Paw Cave Tubing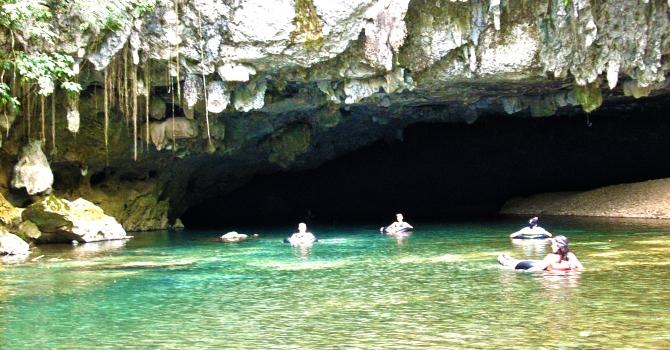 IN JAGUAR PAW CAVE TUBING TAKE A REAL LIFE JOURNEY THROUGH THE MAYA UNDERWORLD "XIBALBA"
Your journey takes you through a series of caves, each filled with fascinating discoveries. Learn where the Maya worshiped, sacrificed, and got their sacred water from. This adventure is filled with much humor and excitement as much as it is refreshing. Come experience this beautiful unexposed JEWEL of BELIZE with us!
Your day starts at 9:00 AM with a 1.5 hour drive to the site. At the park, you grab an inner tube, then embark on a 45 minutes hike across the clear blue Caves Branch River and along a trail heading upstream alongside the river. Your guide will point out interesting aspects of the local flora&fauna – perfect time to take out your cameras!
Upon arrival at the designated starting point, your guide will brief you on the proper safety techniques for boarding & floating on your tube. If you're adventurous, you'll want to dive or splash into the water from a rock at the starting point.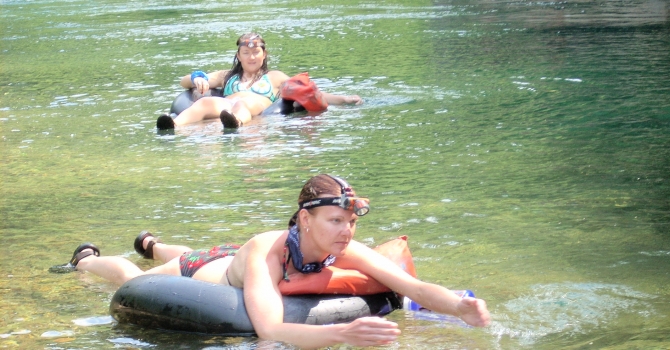 You'll set yourself afloat through a series of cavers which periodically open up to the sunshine & jungle. Your guide will occasionally point out various Maya artifacts. You may unboard your tube & walk up for a closer look if you wish.
Tour Details:
Rate: View Special Guest Rate
Duration: 4. 5 – 5 Hours
Activity level: Moderate
What to Bring: Water Shoes, Shorts, Lightweight T-shirt, change of clothes, Towels, Sunscreen, Hats, Water, Insect Repellant, Camera.
Included: Lunch, soda, water, helmet with head lamp, inner tube, Life Jackets are provided for non-swimmers.
Note: This adventure may be done as a full day trip on its own or in combination with Ziplining, Xunantunich Ruin or the Belize Zoo.