Lamanai
"

Submerged Crocodile

"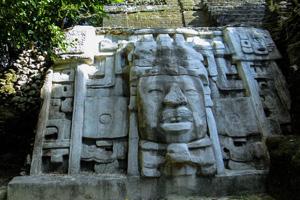 THE THIRD LARGEST, AND POSSIBLY MOST INTERESTING, ARCHAEOLOGICAL SITE IN BELIZE. LASTED UP UNTIL AT LEAST 1,650 AD, WELL BEYOND MOST OTHER MAYA SITES.
Let us take you to Lamanai in Orange Walk District, Belize. It's a complex temple sitting atop the western bluff of the New River Lagoon surrounded by pristine rainforest.
First, your adventure begins at 7:30 AM with a 3 hours drive to Orange Walk. During this, look out for lowland villages & a variety of bird species inhabiting the region. We'll board a riverboat & embark on a scenic cruise along the New River, traversing multiple creeks & lagoons en rout to the Mayan site.
Upon unboarding the boat, we'll set out on a 1.5 mile jungle hike to the temple nestled in the jungle. On the way there, you will observe several bird species, crocodiles, spider monkeys, as well as several exotic plants & flowers.
Exploring the Maya Temples is an exilirating experience you will enjoy as your guide exposes it's history to you.
TOUR DETAILS:
Rate: US$ 175.00
Duration: Approx 8 – 9 hours
Activity level: Moderate
What to Bring: Bathing suite, sunscreen, hiking shoes, mosquito repellent, sun glasses, comfortable/fresh clothes, binoculars, camera.
Note: This Maya Temple is situated in the Orange Walk District which is 3 hours away from San Ignacio. The way to the site may be quite lengthy so be aware of this.